Car batteries are rare barter items searched by players for early quests and hideout upgrades. Even when found, it is a 6 slot item that's very heavy making it difficult to extract with from a raid successfully. Factory is not a map many players would expect to find these items, but they can be found. This guide on car battery spawns on the Factory map in Escape From Tarkov will show you the known areas where you can find them.
Car Battery Spawns On The Factory Map
Car Battery Spawn In The Second Floor Factory Showers
The showers on the second floor of Factory contain many different item spawns and car batteries are on that list. The battery can be found at the base of a locker in the showers. The locker is located in the aisle closest to the "Suicide Box" and the Gate 3 extract. It is at the start of the aisle right next to the entrance door into the Showers room.
Car Battery Spawn On Wooden Crates By Dead Scav
On the Gate 0 side of Factory on the first floor is a small room with a dead scav inside. This is the scav you need to find for Prapor's Postman Pat – Part 1 quest. Just outside the room is a stack of wooden crates loosely covered by a tarp. The car battery can spawn on top of these crates.
---
Car Battery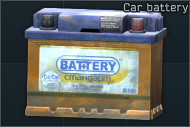 The Car Battery is a Barter Item under the Energy Element category. It is an important quest item during the early game. You will need to find 4 in raid for Therapist's Car Repair quest. In addition, you will need 5 Car Batteries for your Vent Station upgrades in your Hideout. It is a heavy six-slot item that can be sold to Therapist for 36,938 roubles. This results in a value of 6,156 roubles per slot.
Other Guides
If you enjoyed this guide on Car Battery Spawns On The Factory Map in Escape From Tarkov, then check out our other articles below.